People at Camp - Andrea Figari
We asked a few of the track and lab facilitators, and a few of the Camp participants, some questions about themselves, their work, what they did at camp and what they came away with at the end of the week.
The Intervention Track -- otherwise known as the "Beautiful Troublemakers" track -- was facilitated by the experienced and energetic Andrea Figari. Andrea is the Global Programs Manager at Transparency International (TI). The 'Global' part of that title refers to TI's numerous chapters flung out across the world. Based in TI's secretariat in Berlin, Andrea is the central advisor, the go-to person, when a chapter needs help organising their campaign activities. She is also a good person to turn to on questions about security.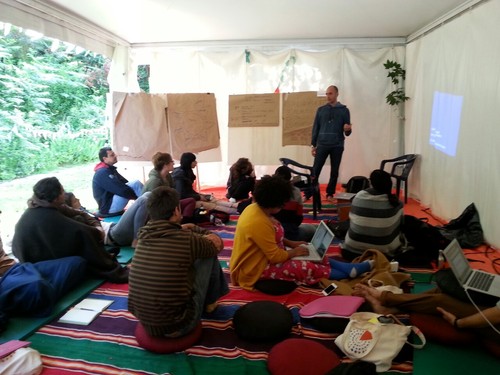 At Camp, Andrea's task was to guide her group of beautiful troublemakers through the process of effective campaigning. "The track was about connecting data with action creatively in a strategic way," she says. "The group was very diverse, ranging from artists to lawyers to experienced campaigners to people who work with data and statistics. "
In the first session, the group was divided into four subgroups. Over the rest of the week, each subgroup then developed their own campaign. "We introduced concepts through exercises and examples, and built the campaigns little by little," explains Andrea.
Andrea says that for her, the highlight of the camp was "the ever-changing, collaborative effort to create something. The continual learning and giving was amazing. [Some] people had more knowledge than others about specific things but everyone was ignorant about something. This was a good equaliser.... I'm now trying to share this model and blur the lines between participants and experts."
And on what she learned from Camp: "To try to move away from the traditional idea of organising workshops and meetings where we spend ages on the agenda and don't talk to participants. I want to see how this participative model works on a bigger scale."
Evidence & Action